Product Summary
The NB100LVEP91MNG is a triple any level positive input to NECL output translator. The NB100LVEP91MNG accepts LVPECL, LVTTL, LVCMOS, HSTL, CML or LVDS signals, and translates them to differential LVNECL output signals (-2.5 V / -3.3 V).
Parametrics
NB100LVEP91MNG absolute maximum ratings: (1)VCC, Positive Power Supply: 3.8 to 0 V; (2)VEE, Negative Power Supply: -3.8 to 0 V; (3)VI, Positive Input Voltage: 3.8 to 0 V; (4)VOP, Operating Voltage: 7.6 to 0 V; (5)Iout, Output Current: 50mA; (6)IBB, PECL VBB Sink/Source: ± 0.5 mA; (7)TA, Operating Temperature Range: -40 to +85℃; (8)Tstg, Storage Temperature Range: -65 to +150℃; (9)θJA, Thermal Resistance: 90℃/W; (10)θJA, Thermal Resistance: 37℃/W.
Features
NB100LVEP91MNG features: (1)Maximum Input Clock Frequency > 2.0 GHz Typical; (2)Maximum Input Data Rate > 2.0 Gb/s Typical; (3)500 ps Typical Propagation Delay; (4)Operating Range: VCC = 2.375 V to 3.8 V; VEE = -2.375 V to 3.8 V; GND = 0 V; (5)Q Output will Default LOW with Inputs Open or at GND; (6)Pb-Free Packages are Available.
Diagrams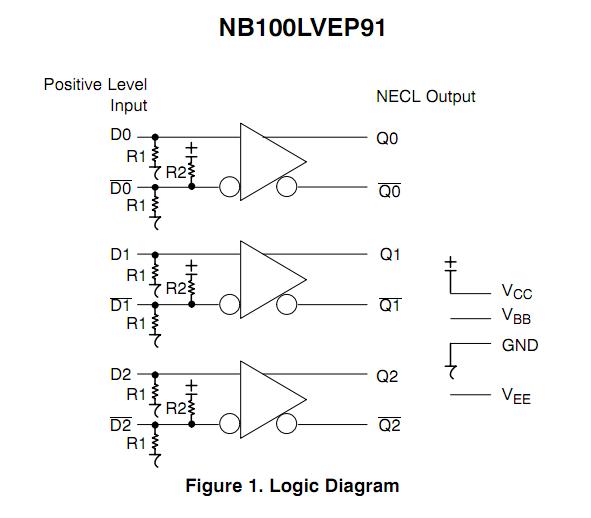 Image
Part No
Mfg
Description
Pricing
(USD)
Quantity

NB100LVEP91MNG

ON Semiconductor

Translation - Voltage Levels 2.5V/3.3V Any LVL to -2.5V/-3.3V/-5V NECL

Data Sheet



| | |
| --- | --- |
| 0-50: | $10.67 |
| 50-100: | $9.82 |
| 100-500: | $8.36 |

Image
Part No
Mfg
Description
Pricing
(USD)
Quantity

NB1000GY

Tripp Lite

Tool Kits & Cases Messenger Brief Case

Data Sheet



NB1001BK

Tripp Lite

Tool Kits & Cases Profile Brief Case

Data Sheet



NB1002OL

Tripp Lite

Tool Kits & Cases Slim Brief Case

Data Sheet

Negotiable

NB1003BK

Tripp Lite

Tool Kits & Cases Notebook Case

Data Sheet



NB1004BK

Tripp Lite

Tool Kits & Cases Exec Notebook Case

Data Sheet



NB1005BK

Tripp Lite

Tool Kits & Cases Notebook Case

Data Sheet