Product Summary
The USB3250-ABZJ is an USB2.0 physical layer transceiver (PHY) integrated circuit. It supports 480Mbps transfer rate, while remaining backward compatible with USB 1.1 legacy protocol at 12Mbps. The applications of the USB3250-ABZJ include Scanners, Printers, External Storage and System Backup, Still and Video Cameras, PDAs, CD-RW and Gaming Devices.
Parametrics
USB3250-ABZJ absolute maximum ratings: (1)1.8V Supply Voltage (VDD1.8 and VDDA1.8), VDD1.8: -0.5 to TBD V; (2)3.3V Supply Voltage (VDD3.3 and VDDA3.3), VDD3.3: -0.5 to 4.6 V; (3)Input Voltage VI: -0.5 to 4.6 V; (4)Storage Temperature TSTG: -40 to +125℃.
Features
USB3250-ABZJ features: (1)USB-IF Hi-Speed certified to USB2.0 electrical specification; (2)Interface compliant with the UTMI specification (60MHz 8-bit unidirectional interface or 30MHz 16-bit bidirectional interface); (3)Supports 480Mbps High Speed (HS) and 12Mbps Full Speed (FS) serial data transmission rates; (4)Integrated 45Ω and 1.5kΩ termination resistors reduce external component count; (5)Internal short circuit protection of DP and DM lines; (6)On-chip oscillator operates with low cost 12MHz crystal; (7)Robust and low power digital clock and data recovery circuit; (8)SYNC and EOP generation on transmit packets and detection on receive packets.
Diagrams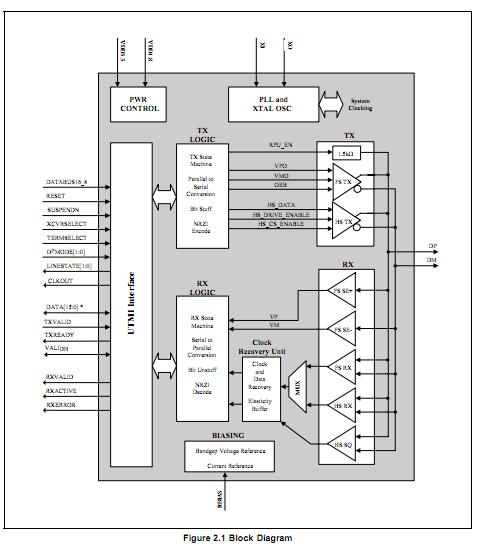 Image
Part No
Mfg
Description
Pricing
(USD)
Quantity

USB3250-ABZJ

SMSC

Telecom Line Management ICs USB 2.0 PHY UTMI

Data Sheet



| | |
| --- | --- |
| 0-1: | $1.37 |
| 1-25: | $0.82 |
| 25-100: | $0.70 |
| 100-250: | $0.67 |

Image
Part No
Mfg
Description
Pricing
(USD)
Quantity

USB3250

Other



Data Sheet

Negotiable

USB3250-ABZJ

SMSC

Telecom Line Management ICs USB 2.0 PHY UTMI

Data Sheet



| | |
| --- | --- |
| 0-1: | $1.37 |
| 1-25: | $0.82 |
| 25-100: | $0.70 |
| 100-250: | $0.67 |


USB3280

Other



Data Sheet

Negotiable

USB3280-AEZG

SMSC

Interface - Specialized USB 2.0 UTMI

Data Sheet



USB3280-AEZG-TR

SMSC

Interface - Specialized USB 2.0 UTMI

Data Sheet



USB3290

Other



Data Sheet

Negotiable