Product Summary
The PS2801-4 is an optically coupled isolator containing a GaAs light emitting diode and an NPN silicon phototransistor in a plastic SOP for high density applications. This package has shield effect to cut off ambient light. The applications of the PS2801-4 include: Programmable logic controllers, Measuring instruments, Power supply, Hybrid IC.
Parametrics
PS2801-4 absolute maximum ratings: (1)Diode: Forward Current (DC), IF: 50 mA; Reverse Voltage, VR: 6 V; Power Dissipation Derating, △PD/℃: 0.8 mW/℃; Power Dissipation, PD: 80 mW/ch; Peak Forward Current, IFP: 1 A; (2)Transistor: Collector to Emitter Voltage, VCEO: 80 V; Emitter to Collector Voltage, VECO: 6 V; Collector Current, IC: 50 mA/ch; Power Dissipation Derating, △PC/℃: 1.2 mW/℃; Power Dissipation, PC: 120 mW/ch; (3)Isolation Voltage, BV: 2500 Vr.m.s.; (4)Operating Ambient Temperature, TA: -55 to +100 ℃; (5)Storage Temperature, Tstg: -55 to +150 ℃.
Features
PS2801-4 features: (1)High isolation voltage (BV = 2 500 Vr.m.s.); (2)Small and thin package (4,16-pin SOP, Pin pitch 1.27 mm); (3)High collector to emitter voltage (VCEO = 80 V); (4)High-speed switching (tr = 3 ms TYP., tf = 5 us TYP.); (5)UL approved: File No. E72422 (S); (6)VDE0884 approved (Option): PS2801-4 only; (7)Operating number of taping product: PS2801-1-F3, F4, PS2801-4-F3, F4.
Diagrams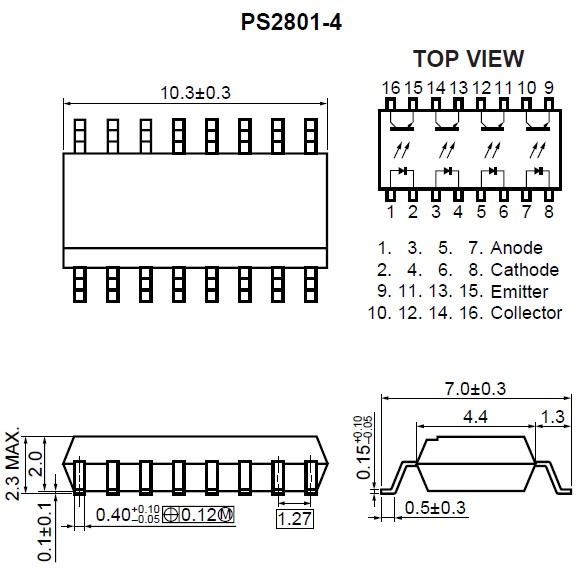 Image
Part No
Mfg
Description
Pricing
(USD)
Quantity

PS2801-4

NEC/CEL

Transistor Output Optocouplers Hi-Iso Photo 4-Ch

Data Sheet

Negotiable

PS2801-4-A

CEL

Transistor Output Optocouplers Hi-Iso Photo 4-Ch

Data Sheet



| | |
| --- | --- |
| 0-1: | $1.92 |
| 1-10: | $1.58 |
| 10-100: | $1.49 |
| 100-500: | $1.27 |


PS2801-4-F3

CEL

Transistor Output Optocouplers Hi-Iso Photo 4-Ch

Data Sheet

Negotiable

PS2801-4-F3-A

CEL

Transistor Output Optocouplers Hi-Iso Photo 4-Ch

Data Sheet



| | |
| --- | --- |
| 0-2500: | $1.13 |
| 2500-5000: | $1.11 |


PS2801-4-F4-A

CEL

Transistor Output Optocouplers Hi-Iso Photo 4-Ch

Data Sheet



PS2801-4-V-F4-A

CEL

Transistor Output Optocouplers Quad sgl Tr DC Couplr

Data Sheet