Product Summary
The mc908jb8jdwe is a low-cost, high-performance, 8-bit microcontroller unit (MCU). It uses the enhanced M68HC08 central processor unit (CPU08) and is available with a variety of modules, memory sizes and types, and package types.
Parametrics
mc908jb8jdwe absolute maimum ratings: (1)Supply voltage, VDD: –0.3 to +6.0 V; (2)Input voltage, VIN: VSS – 1.0 to VDD +0.3V; (3)Mode entry voltage, IRQ pin, VDD+VHI: VSS–0.3 to +11 V; (4)Maximum current per pin excluding VDD and VSS, I: ± 25 mA; (5)Storage temperature, TSTG: –55 to +150℃; (6)Maximum current of PTD0/1, IOL: –25 to +50 mA; (7)Maximum current out of VSS, IMVSS: 100 mA; (8)Maximum current into VDD, IMVDD: 100 mA.
Features
mc908jb8jdwe features: (1)High-performance M68HC08 architecture; (2)Fully upward-compatible object code with M6805, M146805, and M68HC05 Families; (3)3-MHz internal bus frequency; (4)8,192 bytes of on-chip FLASH memory; (5)256 bytes of on-chip random-access memory (RAM); (6)FLASH program memory security1; (7)On-chip programming firmware for use with host PC computer; (8)Up to 37 general-purpose 3.3V input/output (I/O) pins.
Diagrams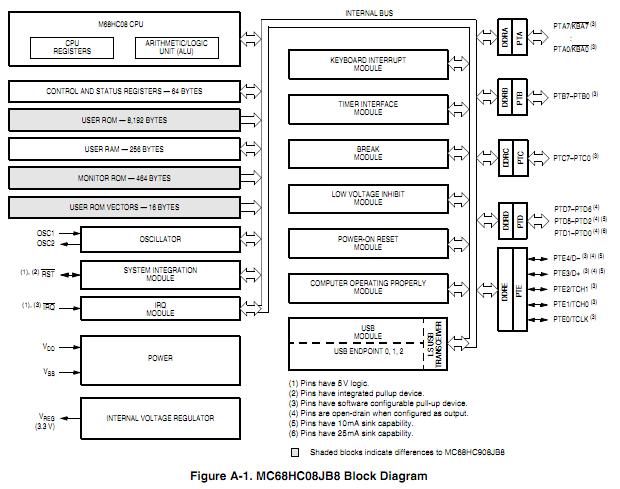 Image
Part No
Mfg
Description
Pricing
(USD)
Quantity

MC908JB8JDWE

Freescale Semiconductor

8-bit Microcontrollers (MCU) MC68HC908JB8 SERIES

Data Sheet



| | |
| --- | --- |
| 0-1: | $2.21 |
| 1-25: | $1.99 |
| 25-100: | $1.63 |
| 100-500: | $1.46 |


MC908JB8JDWER

Freescale Semiconductor

8-bit Microcontrollers (MCU) MC68HC908JB8 SERIES

Data Sheet

Negotiable