Product Summary
The SAK-C167CR-LM is a 16-Bit Single-Chip Microcontroller. The device combines high CPU performance (up to 16.5 million instructions per second) with high peripheral functionality and enhanced IO-capabilities. The SAK-C167CR-LM also provides clock generation via PLL and various on-chip memory modules such as program ROM, internal RAM, and extension RAM.
Parametrics
SAK-C167CR-LM absolute maximum ratings: (1)Storage temperature, TST: -65 to 150℃; (2)Junction temperature, TJ: -40 to 150℃ when under bias; (3)Voltage on VDD pins with respect to ground (VSS), VDD: -0.5 to 6.5V; (4)Voltage on any pin with respect to ground (VSS), VIN: -0.5 to VDD + 0.5 V; (5)Input current on any pin during overload condition: -10 to 10 mA; (6)Absolute sum of all input currents during overload condition: |100|mA max; (7)Power dissipation, PDISS: 1.5 W max.
Features
SAK-C167CR-LM features: (1)High Performance 16-bit CPU with 4-Stage Pipeline; (2)80/60 ns Instruction Cycle Time at 25/33 MHz CPU Clock; (3)400/303 ns Multiplication (16 × 16 bits), 800/606 ns Division (32/16 bits); (4)Enhanced Boolean Bit Manipulation Facilities; (5)Additional Instructions to Support HLL and Operating Systems; (6)Register-Based Design with Multiple Variable Register Banks; (7)Single-Cycle Context Switching Support; (8)16 Mbytes Total Linear Address Space for Code and Data; (9)1024 Bytes On-Chip Special Function Register Area; (10)16-Priority-Level Interrupt System with 56 Sources, Sample-Rate down to 40/30 ns; (11)8-Channel Interrupt-Driven Single-Cycle Data Transfer Facilities via; (12)Peripheral Event Controller (PEC); (13)Clock Generation via on-chip PLL (factors 1:1.5/2/2.5/3/4/5), via prescaler or via direct clock input.
Diagrams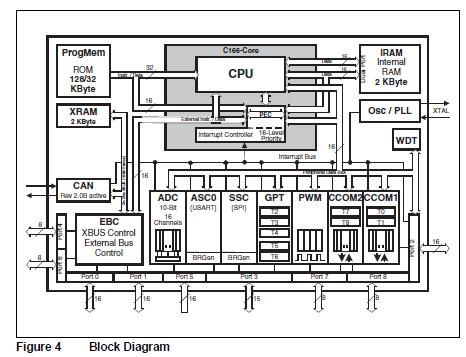 Image
Part No
Mfg
Description
Pricing
(USD)
Quantity

SAK-C167CR-LM HA+

Infineon Technologies

16-bit Microcontrollers (MCU) 16-Bit Single-Chip 5V 25MHz ROM less

Data Sheet

Negotiable
Image
Part No
Mfg
Description
Pricing
(USD)
Quantity

SAK-164CI-8EM

Other



Data Sheet

Negotiable

SAK-90



KIT ARM-ASSY FOR SA9 TO SA90 SER

Data Sheet



SAK-C161CS-LF CA

Infineon Technologies

16-bit Microcontrollers (MCU) MICROCONTROLLER 16-BIT

Data Sheet



| | |
| --- | --- |
| 0-229: | $17.12 |
| 229-500: | $14.95 |
| 500-1000: | $14.14 |


SAK-C161JC-LF CA

Infineon Technologies

16-bit Microcontrollers (MCU) MICROCONTROLLER 16-BIT

Data Sheet



| | |
| --- | --- |
| 0-229: | $12.79 |
| 229-500: | $11.17 |
| 500-1000: | $10.55 |


SAK-C164CI-8E25M DB

Infineon Technologies

16-bit Microcontrollers (MCU) 16-Bit Sngl-Chip 5V 25MHz OTP

Data Sheet

Negotiable

SAK-C164CI-8EM CB

Infineon Technologies

16-bit Microcontrollers (MCU) 16 BIT OTP

Data Sheet

Negotiable