Product Summary
The TPS5430DDA is a high-output-current PWM converter that integrates a low resistance high side n-channel MOSFET. Included on the substrate with the listed features are a high performance voltage error amplifier that provides tight voltage regulation accuracy under transient conditions; an undervoltage-lockout circuit to prevent start-up until the input voltage reaches 5.5 V; an internally set slow-start circuit to limit inrush currents; and a voltage feed-forward circuit to improve the transient response. The TPS5430DDA device is available in a thermally enhanced, easy to use 8-pin SOIC PowerPAD package. The applications of the TPS5430DDA include Consumer: Set-top Box, DVD, LCD Displays, Industrial and Car Audio Power Supplies, Battery Chargers, High Power LED Supply and 12V/24V Distributed Power Systems.
Parametrics
TPS5430DDA absolute maximum ratings: (1)VI, Input voltage range: VIN: –0.3 to 40 v; BOOT: –0.3 to 50 v; PH (steady-state): –0.6 to 40 v; (2)ENA: –0.3 to 7 v; (3)BOOT-PH: 10v; (4)VSENSE: –0.3 to 3v; (5)PH (transient < 10 ns): –1.2v; (6)IO, Source ,PH: Internally Limited; (7)Ilkg, Leakage current, PH: 10 mA; (8)TJ, Operating virtual junction temperature range: –40 to 150 ℃; (9)Tstg, Storage temperature: –65 to 150 ℃.
Features
TPS5430DDA features: (1)Wide Input Voltage Range: 5.5 V to 36 V; (2)Up to 3-A Continuous (4-A Peak) Output current; (3)High Efficiency up to 95% Enabled by 110-mΩ Integrated MOSFET Switch; (4)Wide Output Voltage Range: Adjustable Down to 1.22 V with 1.5% Initial Accuracy; (5)Internal Compensation Minimizes External Parts Count; (6)Fixed 500 kHz Switching Frequency for Small Filter Size; (7)Improved Line Regulation and Transient, Response by Input Voltage Feed Forward; (8)System Protected by Overcurrent Limiting, Overvoltage Protection and Thermal shutdown ; (9)Available in Small Thermally Enhanced 8-Pin SOIC PowerPAD Package.
Diagrams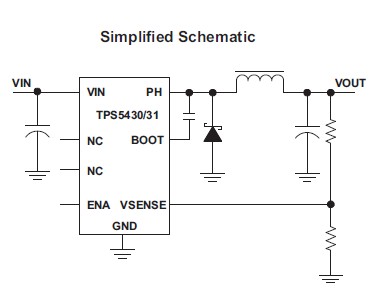 Image
Part No
Mfg
Description
Pricing
(USD)
Quantity

TPS5430DDA

Texas Instruments

DC/DC Switching Regulators 5.5 to 36V Input 3A Step Dwn Converter

Data Sheet



| | |
| --- | --- |
| 0-1: | $3.32 |
| 1-25: | $3.04 |
| 25-100: | $2.43 |
| 100-250: | $2.11 |


TPS5430DDAG4

Texas Instruments

DC/DC Switching Regulators 5.5 to 36V Input 3A Step Dwn Converter

Data Sheet



| | |
| --- | --- |
| 0-1: | $3.28 |
| 1-25: | $3.00 |
| 25-100: | $2.43 |
| 100-250: | $2.11 |


TPS5430DDAR

Texas Instruments

DC/DC Switching Regulators 5.5 to 36V Input 3A Step Dwn Converter

Data Sheet



| | |
| --- | --- |
| 0-1: | $2.70 |
| 1-25: | $2.47 |
| 25-100: | $2.24 |
| 100-250: | $1.57 |


TPS5430DDARG4

Texas Instruments

DC/DC Switching Regulators 5.5 to 36V Input 3A Step Dwn Converter

Data Sheet



| | |
| --- | --- |
| 0-1960: | $1.42 |
| 1960-2000: | $1.39 |
| 2000-2500: | $1.39 |
| 2500-5000: | $1.38 |