Product Summary
The LMV331ILT is a General-purpose low voltage comparator. It can operate with a supply voltage ranging from 2.7 to 5 V, and exhibits a low current consumption. This device LMV331ILT is a perfect choice for low-voltage applications. The applications of the LMV331ILT include Mobile phones, Notebooks and PDAs, Battery supplied electronics, General-purpose portable devices and General-purpose low voltage applications.
Parametrics
LMV331ILT absolute maximum ratings: (1)VCC, Supply voltage: 5.5 V; (2)VID, Differential input voltage: ± 5.5 V; (3)VIN, Input voltage range: (VCC-) - 0.3 to (VCC+) + 0.3 V; (4)Rthja, Thermal resistance junction to ambient: 205℃/W; (5)Rthjc, Thermal resistance junction to case: 172℃/W; (6)Tstg, Storage temperature: -65 to +150℃; (7)Tj,Junction temperature: 150℃; (8)TLEAD, Lead temperature (soldering 10 seconds): 260℃; (9)ESD, Human body model (HBM): 2000V; (10)Latch-up immunity: 200 mA.
Features
LMV331ILT features: (1)Supply operation from 2.7 to 5 V; (2)Low current consumption: 20 μA; (3)Input common mode range includes ground; (4)Wide temperature range: -40 to +85℃; (5)Low output saturation voltage; (6)Propagation delay: 200 ns; (7)Open drain output; (8)ESD tolerance: 2 kV HBM/200 V MM; (9)SMD packages: SC70-5 and SOT23-5.
Diagrams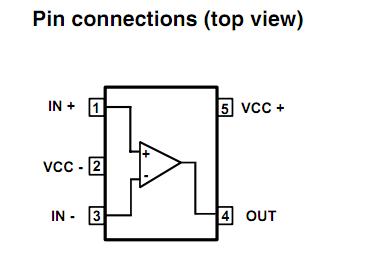 Image
Part No
Mfg
Description
Pricing
(USD)
Quantity

LMV331ILT

STMicroelectronics

Comparator ICs Low Volt Comparator 2.7 - 5V 20 uA 200ns

Data Sheet



| | |
| --- | --- |
| 0-1: | $0.35 |
| 1-10: | $0.25 |
| 10-100: | $0.22 |
| 100-250: | $0.19 |

Image
Part No
Mfg
Description
Pricing
(USD)
Quantity

LMV301

Other



Data Sheet

Negotiable

LMV301MG

National Semiconductor (TI)

Operational Amplifiers - Op Amps

Data Sheet



| | |
| --- | --- |
| 0-1000: | $0.27 |
| 1000-2000: | $0.27 |
| 2000-3000: | $0.23 |
| 3000-5000: | $0.21 |


LMV301MG/NOPB

National Semiconductor (TI)

Operational Amplifiers - Op Amps 1.8V Low Ib Rro Sngl Op Amp

Data Sheet



| | |
| --- | --- |
| 0-1: | $0.62 |
| 1-25: | $0.49 |
| 25-100: | $0.44 |
| 100-250: | $0.38 |


LMV301MGX

National Semiconductor (TI)

Operational Amplifiers - Op Amps

Data Sheet



| | |
| --- | --- |
| 0-3000: | $0.23 |
| 3000-6000: | $0.22 |
| 6000-12000: | $0.20 |


LMV301MGX/NOPB

National Semiconductor (TI)

Operational Amplifiers - Op Amps

Data Sheet



| | |
| --- | --- |
| 0-1: | $0.89 |
| 1-25: | $0.64 |
| 25-100: | $0.47 |
| 100-250: | $0.34 |


LMV301SQ3T2G

ON Semiconductor

Operational Amplifiers - Op Amps LV SNGL OP AMP SC70

Data Sheet



| | |
| --- | --- |
| 0-1: | $0.23 |
| 1-25: | $0.22 |
| 25-100: | $0.22 |
| 100-250: | $0.20 |